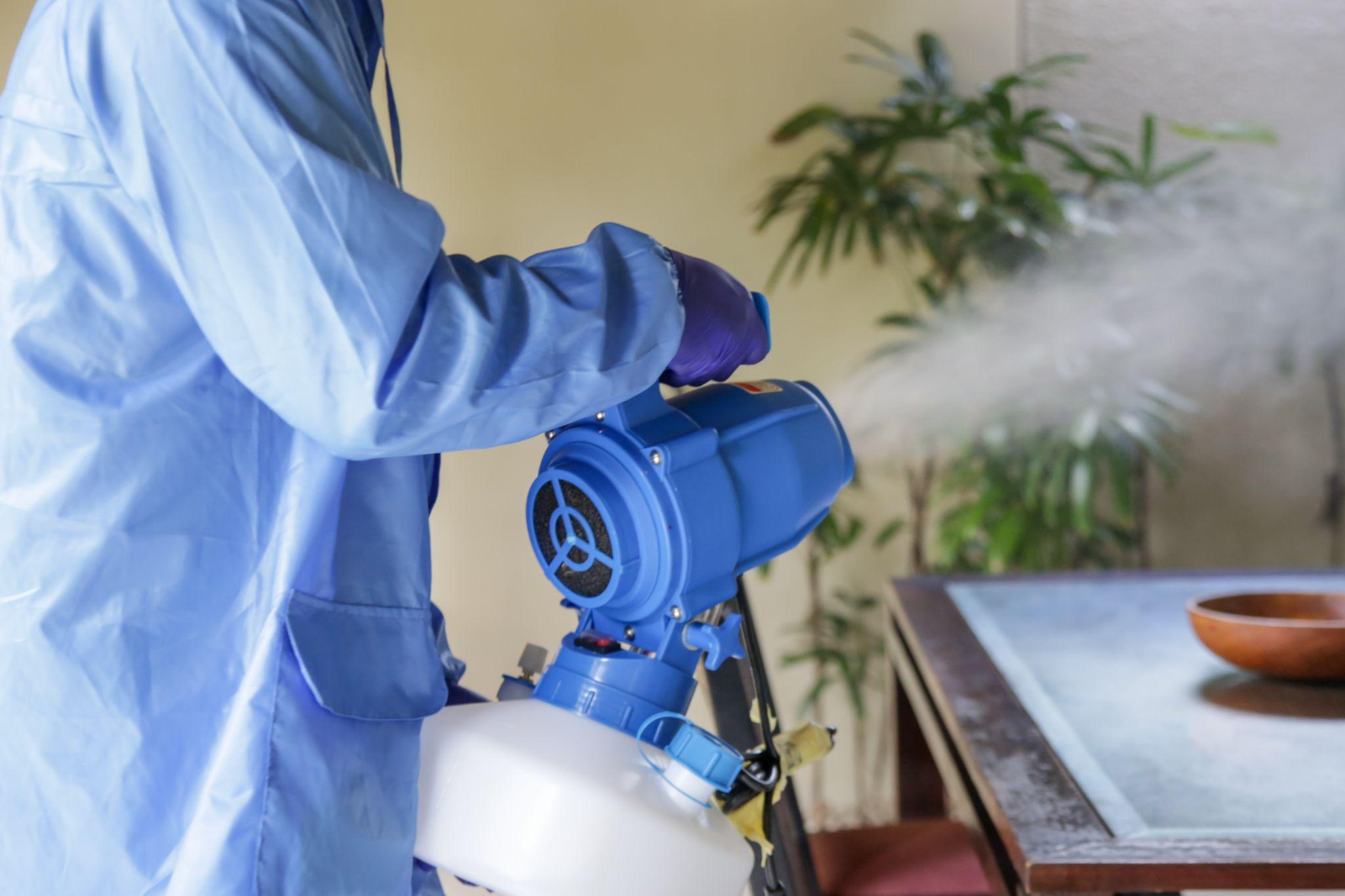 Now more than ever, since the outbreak of COVID, businesses have a greater obligation not just to invest in regular cleaning services, but to initiate ongoing commercial sterilization treatments within the workplace.
In a study published in volume 26 of The Journal of Environmental Health by William R. Richter titled "Inactivation of Bacillus Anthracis Spores to Decontaminate Subway Railcar and Related Material via the Fogging of Peracetic Acid and Hydrogen Peroxide Sporicidal Liquids," the researchers revealed that subways have high humidity and are perfect breeding grounds for bold spores and other bacteria, and that of all the methods used to eradicate their presence, only a fogged peracetic acid/hydrogen peroxide (PAA) and hydrogen peroxide (H2O2) were successful at eradicating the pathogens in 21 decontamination tests.
In conclusion, the study recommends using cold sterilization dry fogging as the preferred method for decontamination considerations.
How Are Subway Germs Like Workplace Germs, and Why Is Dry Fogging Ideal for Commercial Sterilization?
According to a 2018 study by The New York Times, most germs found in subways aren't going to hurt people. The media source is referring to microbial communities on seats and handrails where human skin and commensal microbes, like Propionibacterium, Corynebacterium, Staphylococcus, and Streptococcus, which are normally found on humans and are harmless in most situations. In addition, the same microbial communities live in workplaces.
However, as flu viruses and COVID have spread (especially in Florida where the rate is towards the top of reported outbreaks in America), public transportation systems, retail centers, medical clinics, and office buildings are being impacted with viruses that, years ago, were not a concern. The study's answer to killing all microbes with cold fogging sterilization extends to using dry fogging as the best commercial sterilization solution for killing 100% of mold and viruses like COVID in the workplace.
Why Companies in West Palm Beach, Florida, Prefer Commercial Sterilization to Deep Cleaning Services
Deep cleaning office services may be easier to come by, but a deep clean does not sterilize a room. With deep cleaning, a more thorough job is done in cleaning surfaces, floors, and getting around furniture, and the cleaning chemicals are usually strong enough to kill a virus on contact. However, deep cleaning specialists can't clean ceilings, get into crevices, into HVAC systems, or reach high walls. This means pathogens and viruses that are airborne can't be killed, and can shortly resettle on a surface once it has been cleaned.
Savvy companies that want to eliminate 100% of all viruses, mold spores, and other dangerous elements to human health will invest in commercial sterilization services—and dry fogging is by far the best commercial sterilization process because it is the only one guaranteed to kill anything threatenings, in even the toughest locations to reach.
Innovative West Palm Beach Companies Rely on Commercial Sterilization More So Than Organizations in Other Parts of the Country
According to the National Weather Service, West Palm Beach gets a yearly average rainfall of 63 inches, while the rest of the country averages 38 inches per year. Higher rainfall and moisture leads to greater bacteria spread, and it leads to more reports of water damage—one of the leading causes of mold growth.
Now consider that the state of Florida was the country's number three state in leading COVID cases with one of the highest numbers of unvaccinated individuals. The Centers for Disease Control and Prevention stated that failure to get vaccinated is a leading cause for the spread of COVID, so it comes as no surprise that Florida, especially a busy region like West Palm Beach, has a major need for commercial sterilization services to keep employees and customers safe and healthy.
Why Company Leaders Love Commercial Sterilization Services in West Palm Beach
Time is money, and companies don't want to displace workers or pause production so that cleaning crews can come in and do their job. Employers love Titan Dry Fog and our commercial cold sterilization dry fogging because we can completely sterilize a clinic, office building, or factory of 30,000 feet in under an hour's time. This means we can come in and sterilize your workplace while people take lunch. Also, the dry fog is moisture-free, so no need to remove electronics, papers, or other sensitive materials, and people are free to enter the space seconds after dry fogging is performed.
If you are asking yourself, is commercial cold sterilization dry fogging the best way to clean an office building, the answer is yes because it is the only known service that leaves an office as sterile as a medical cleanroom with no chance of any harmful matter surviving.
Call Titan Dry Fog for a Free Quote Today!
Titan Dry Fog is a family-owned and operated business located in West Palm Beach that serves local businesses with great passion. We can sterilize your workplace, making it as pristine as a medical cleanroom, and our cold sterilization dry fogging will give your employees peace of mind, knowing that their environment is safe and healthy. Call today and take advantage of our deals for valued local businesses.