Cold Sterilization Dry Fogging: Anti-Viral Disinfection Service
Even though we are nearing the end of the COVID scare, viruses, deadly pathogens, and other toxins such as airborne and settled mold spores will always be around us, in our homes, and at our places of business. Traditional cleaning and wipe-down treatments never kill 100 percent of these threats to our health and wellness, but companies that perform cold sterilization dry fogging in West Palm Beach, Florida and across the country guarantee that 100 percent of all viruses, toxins and pathogens will be killed minutes after the treatment is executed.
What is Cold Sterilization Dry Fogging?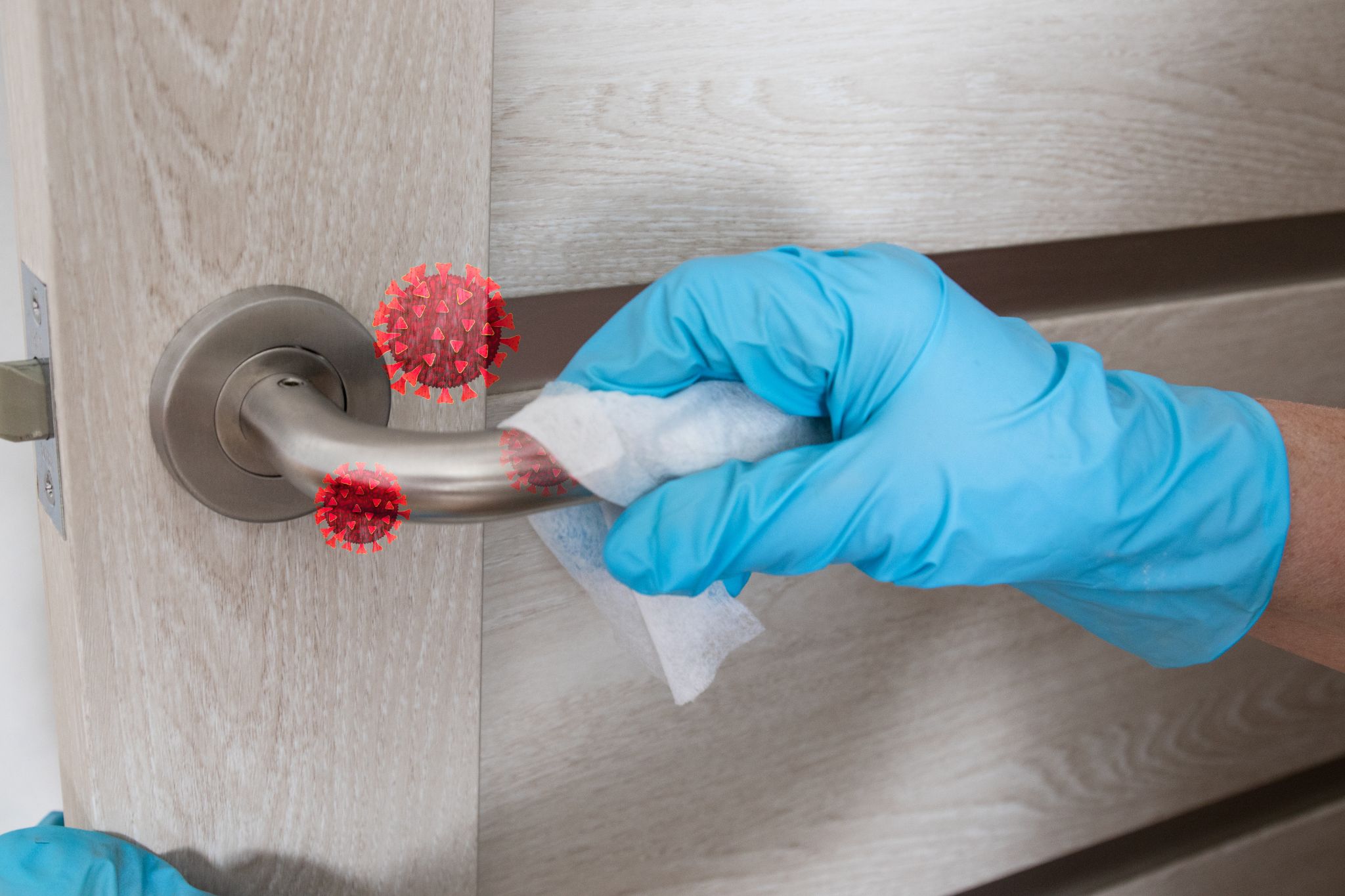 Dry fogging is a cold sterilization process in which specially trained technicians use a dry, non-toxic chemical that is released as a mist made up of tiny particles that touch all surfaces, and enter every crack and crevice in a living space leaving it as sterile as a medical clean room. The dry fogging vapor mist reaches places where wipe-down sterilization can't go, such as inside vents, on ceilings, and it enters every crack in your floorboards, crevices in your furniture, and inside walls. Cold sterilization dry fogging is dispersed rapidly meaning the disinfecting process is extremely quick, covers more square footage than wipe-down treatments, and it is guarenteed to kill the coronavirus, mold, and any germs or toxins in a dwelling.
Hence its name, dry fogging contains no moisture, meaning you don't have to worry about wood floors, textiles or furniture being damaged due to moisture, and there are no wet or damp surfaces left behind. Cold sterilization dry fogging is non-toxic, making it safe for all people and pets.
Cold Sterilization Dry Fogging Kills Mold, Bacteria and Viruses like COVID-19 and Influenza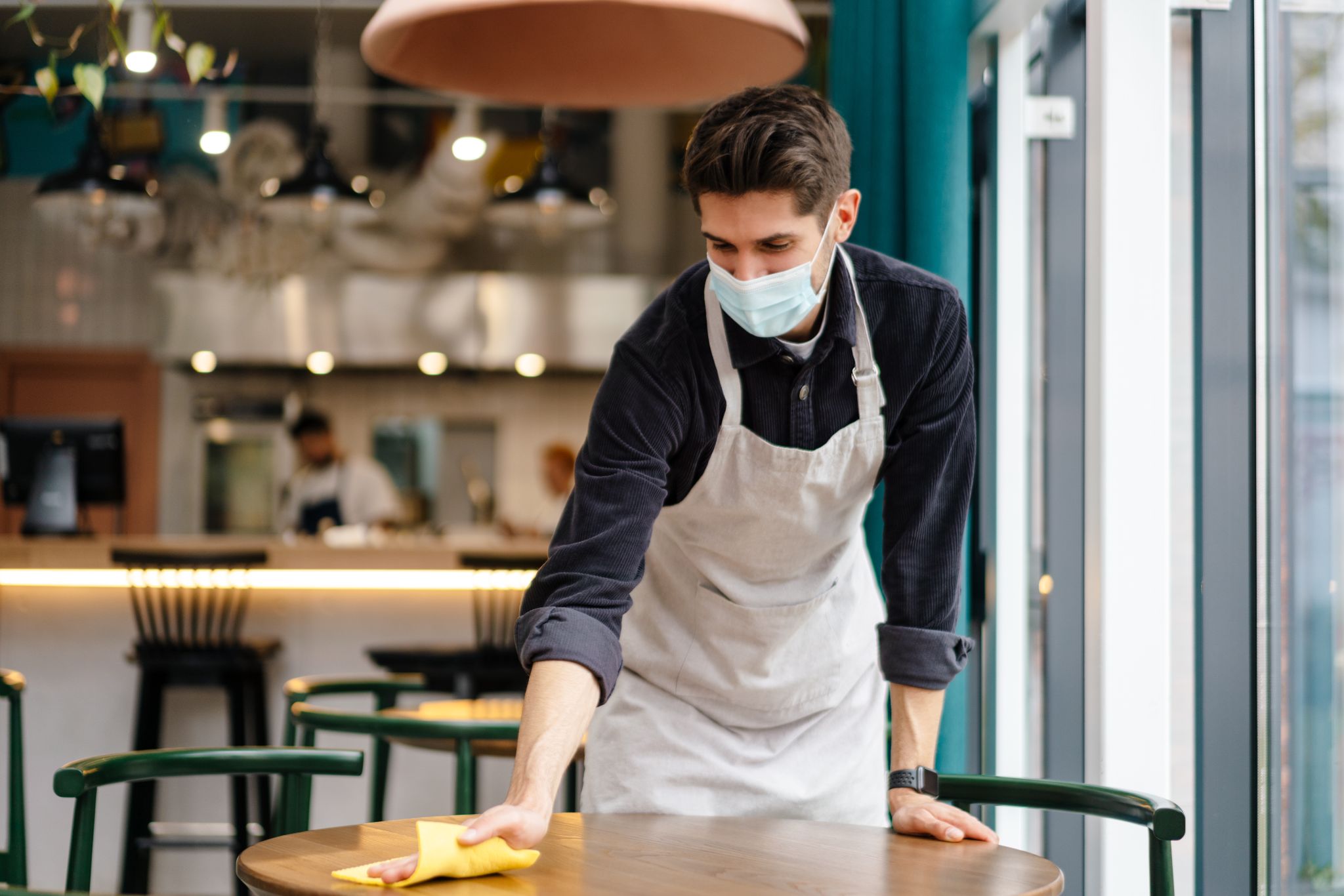 When business owners, office administrators and homeowners learn that cold sterilization dry fogging kills mold, bacteria and viruses while traditional wipe-down cleaning services do not, they tend to stop and think about the risks that surround them.
Is your business open, or are you thinking of opening? Worried about how safe your work area is?
Are you wondering if your sanitation process is completely successful?
What about inside drawers, in closets, under the seats, your equipment, under tables, in air vents, and your electronics?
Masks, gloves, temperature readings and wipe downs are not enough.
Titan Dry Fog provides the only known sterilization process that kills 100% of all contaminants, viruses, bacteria and even mold spores. Cold sterilization dry fogging is also effective at killing the COVID virus. Here are some benefits in partnering with Titan Dry Fog for cold sterilization cleaning services:
The cold sterilization process produces a fog that kills mold, and the most deadly bacteria and viruses within seconds. Yes! It is absolutely effective on the CoronaVirus, Influenza and a multitude of other harmful pathogens
We are available 24 hours a day, 7 days a week
It takes minutes to sterilize your living space, depending on your square footage, and you don't have to remove anything from its current resting place
Safe for humans and animals – NON-TOXIC
WHAT ABOUT THE CHEMICALS USED IN COLD STERILIZATION DRY FOGGING?
EPA certified (meaning its safe), with international verification in health care and pharmaceutical industries
Leaves no residue on any surface and dissipates very quickly
Used in hundreds of Pharmaceutical (drug), Hospital (surgical and patient rooms) and Manufacturing (clean room) applications
The fog goes everywhere that air goes, ensuring 100% coverage that a wipe down sanitation process cannot provide
How Often Should Titan Dry Fogging Come to Perform Cold Sterilization Cleaning?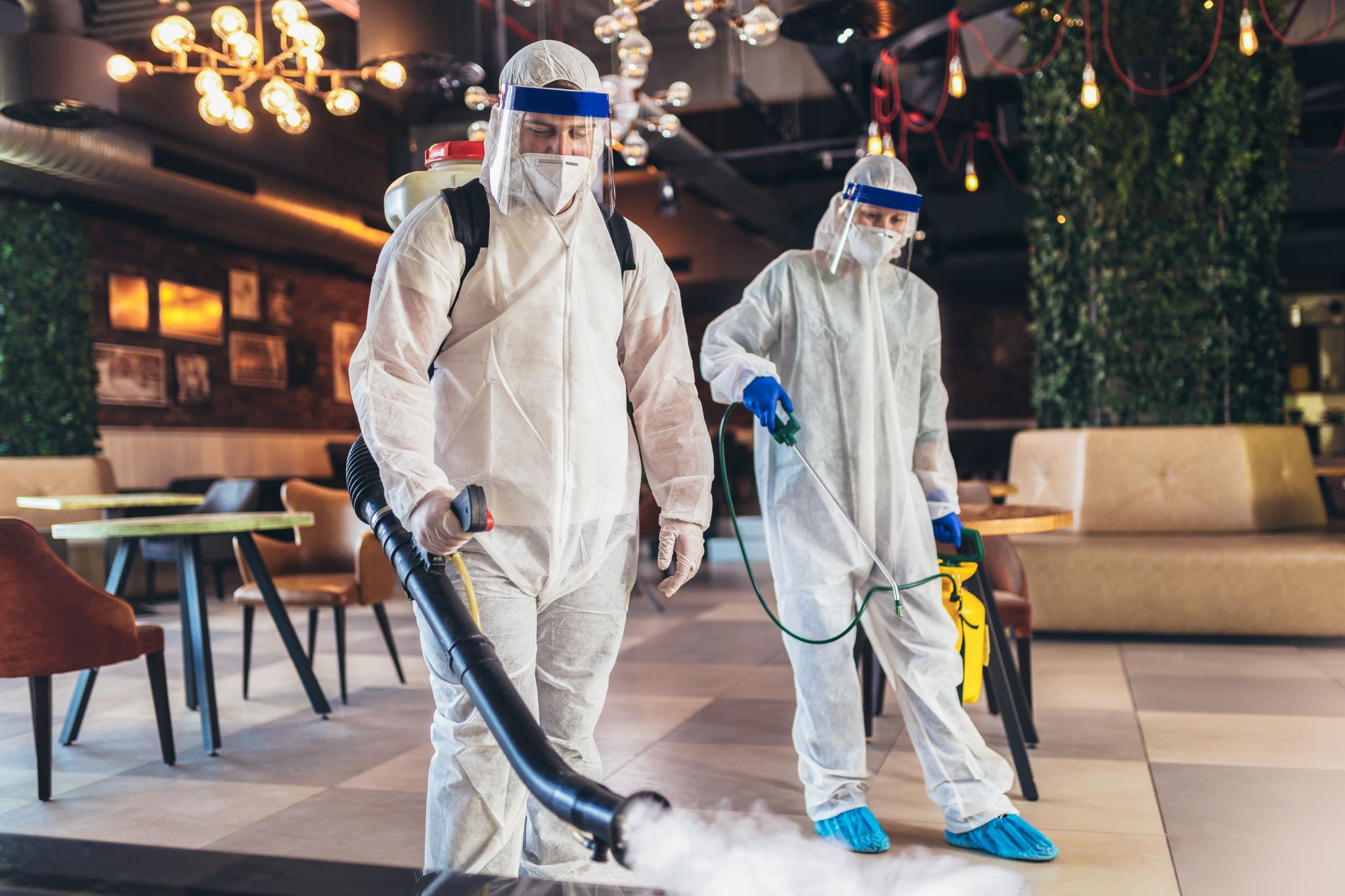 Most customers, both businesses and residential property owners, ask us how often we should come and perform cold fogging sterilization cleaning. Really, the answer is as often as you feel necessary.
If you have very few visitors coming into your home, once a month or every other month could suffice. If you have an office with people who come and go on a daily basis, then once or bi-weekly might be appropriate.
If you have questionable people coming into your workspace, such as delivery or maintenance personnel, then you may want to have us spray more often. Ultimately, your goal is to ensure everyone is safe, and when we perform our free inspection we can make our professional recommendation based on the information you provide us.
We have clients that schedule cold sterilization dry fogging cleaning once a month, twice a month, every week, and on-demand. The treatment is very cost-effective, so you have the luxury of being flexible with our proven sterilization services.
Call Titan Dry Fogging for Cold Sterilization COVID Cleaning Today!
Thanks to Titan Dry Fog, you have no excuses for avoiding this proven treatment. Dry fogging cold sterilization is fast to perform, cost effective, highly effective (it kills 100% of all bacteria, viruses and mold), it is safe, and you don't have to move anything in your home or office. The treatment doesn't leave moisture or residue, and it enters every tiny crack and crevice in your dwelling. Call today for a free estimate, and help keep your family and co-workers safe and healthy.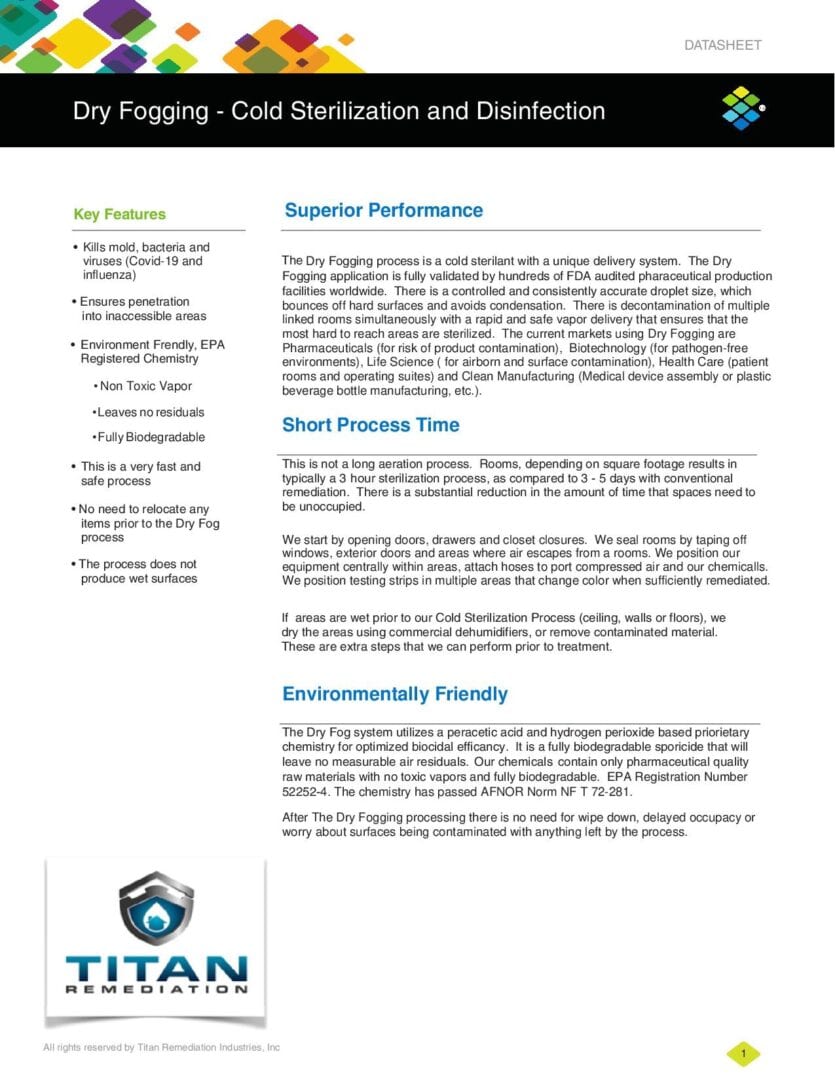 What Our Client Says
From start to finish working with Chris and his team was a great experience. Our home had a lot of damage and they came in and took care of our home like it was their own. Very professional, knowledgeable and friendly people to work with, especially the office staff, taking the time to answer all my questions and help us every step of the way. So glad we went with Titan Remediation to restore our home back to its livable condition.
They did a complete remediation of my home from flood & mold. Professional and knowledgeable about every detail of mold removal, plumbing, air conditioning, painting, reconstruction. I am so happy to be back in my home that is better than before. I would definitely recommend Chris to anyone who need this service.
Chris the owner of the company is a perfectionist. He ensured the mold was araticted and my house's air was clean. He and his crew left my house better than they found it. Team Titan was professional, quick and their standards were high. I would Highly reccomend them and I have contracted them on another project.
Chris and Titan seriously saved our lives. We purchased a home with black mold throughout the house. I have a 15 month old grand daughter and was extremely concerned at the danger. From the moment I met Chris, I knew he was bright, professional, kind, thorough, and treated us as if his own child would be moving in. When his work was complete, the mold inspector said that he had never seen a more clean and mold free house. Please be careful... Mold is deadly. Dont fall for vendors that offer a clean bill of health at a low cost. This is serious business and should only be performed by an expert like Chris and Titan. We now feel safe and can look forward to my happy family times. Thanks Chris. You are the best!!!!!
Having mold in your home is a serious situation that can result in a number of health issues. Needless to say, when I discovered mold growing on the ceilings and walls of the home I'm renting I was very concerned. Titan Remediation was contacted to evaluate the situation and Chris came out the same day. He assessed my home and was able to identify the source of the moisture causing the mold within minutes. He quickly came up with an action plan to address the cause of the condensation, reduce the air moisture levels and treat the mold spores. The whole process took approximately 10 days, during which Chris consistently kept me updated on the progress. When all the treatments were complete, they even brought in a third-party testing company to ensure all mold sores had been removed. In addition to their amazing remediation services, Chris was also very personable. He took the time to explain everything to me and put me at ease that all the issues could easily be addressed and my house would be back to normal before I knew it. Finding a contractor that truly cares about the job they are doing, the home they are doing it in and the people they are doing it for is so rare. I can not recommend Titan Remediation and Chris enough. Hopefully this will be my last "mold situation" but if it isn't, I have peace of mind knowing Titan is just a call away.