Dry Fog Mold Removal and Remediation
Cold sterilization dry fogging has been around for decades, but has gained recent popularity as a safe, fast and effective way for sterilizing a room and ridding it of the COVID virus. But what most people don't know is that it is also an ideal way to remove airborne mold spores, as well as black mold that might be dwelling under floors, in walls, or around areas where plumbing problems have caused water damage. If you have a mold infestation, or detect a musky odor coming from damp spots in your wall or floor, you should call for dry fog mold removal services and get a free assessment and quote, as well as how your insurance will play a role in coverage. 
Dry fog mold remediation is a critical service to invest in. Mold spores are bad for human health; some studies have linked mold to cancer and lung disease, as well as respiratory problems. Even if mold is restricted to a certain area of the house, its spores are airborne and can travel throughout any sized home where they are easily inhaled. In some cases, mold has developed bathrooms, kitchens and break rooms in office buildings, causing employees to become ill. The last thing a business wants is to risk the health of their workforce and face a potential lawsuit. 
When our certified experts come to perform dry fog mold remediation, business owners and heads of households can rest assured knowing that the process is 100% effective, fast, safe, and environmentally friendly.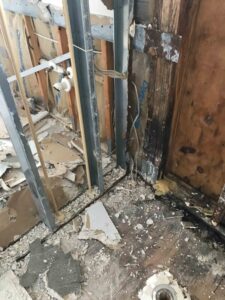 What is Cold Sterilization Dry Fog Mold Remediation, and how does it Work?
Cold sterilization dry fog mold remediation uses a specialized technique in which air pressure is calibrated to atomize sterilants while creating a fog of safe chemicals able to sterilize areas inaccessible to liquid and other traditional mold removal treatments. The particles that make up the fog range from 6-8 microns in diameter making the method ideal for seeking and destroying mold, as spores vary from 30-100 microns in diameter thus making it easy for the fog droplets to attach themselves to the mold and wipe it out of existence. In addition, the air pressure required to perform cold sterilization dry fog mold remediation generates the right force in a living space that allows the sterilant to penetrate all cracks, tiny gaps, and porous materials where mold spores tend to hide. For example, dry fogging can remove mold from behind crown molding, baseboards, inside fixtures, between floorboards, and in wall cavities. Dry fogging can even remove mold spores from furniture, wallpaper, clothing, artwork, textiles and a number of other items. Basically, dry fog can go anywhere mold can go, and every surface it touches becomes completely sterilized within hours.  
As its name suggests, dry fogging uses a moisture-free delivery process that is completely safe. This means it won't damage furniture, electronics, or other elements of a home, and it is safe for all people and pets. Dry fog mold removal and remediation services performed by certified experts like the good people of Titan Dry Fogging is a sure way to kill mold spores, in a timely manner, as there are no time-consuming preparation steps to take.
What is the Dry Fog Mold Remediation Process?
The first thing Titan Dry Fogging will do is perform a mold inspection service. Mold inspection and testing is a critical first step in the process, because it is important for mold removal specialists to understand what type of mold they are dealing with, where it is located, if it has spread, and where its point of origin occured. Once this information is known, Titan Dry Fogging creates a strategy and shares it with the client, fully educating them on the cause of the mold and the process that will be used to perform mold removal. Once the client has been informed, our certified experts enter the home or building with the latest dry fog mold remediation technology, and we calibrate the equipment to release the right type of fog designed to attack the mold by fully engulfing it, including spores in hard-to reach areas like inside electrical outlets, in walls, and in between floorboards, as well as kill all stirred up airborne mold spores.
The size of the home or building will factor into how long the dry fog mold remediation process takes, but when dealing with a standard 2000 sf ranch style home, this time usually takes three hours. Ultimately, dry fog mold removal is performed significantly faster than typical mold remediation services, and is more thorough therefore offering a plethora of value to customers across the country. 
DIY Mold Removal Fogger
Anyone can purchase or rent their own dry fogging equipment and venture down the DIY mold removal fogger path. However, how you use the equipment will determine how successful you are at mold removal, and it takes an advanced level of knowledge in knowing how to use the equipment, as well as understanding and identifying various types of mold and how the spores breed. "Know thy enemy" is highly relevant in the world of dry fog mold removal and remediation, and just because you are able to rent the equipment doesn't mean you automatically become knowledgeable in the world of mold or an expert at performing the service. In order to get certified to remove mold from a living space, technicians must pass a comprehensive exam and prove efficient in analyzing a mold infestation, creating a strategy for mold remediation, and executing on that strategy with a 100% success rate. DIY might be fine for certain home improvement projects, but not for mold removal, as mold plays a direct role in the health and safety of your family, and it factors into your home's integrity and resale value. Leave dry fog mold removal to the experts of Titan Dry Fogging.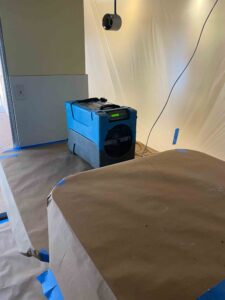 Get a Quote on Dry Fog Mold Removal Remediation Services Today!
At Titan Dry Fogging we will perform mold inspection services, locate eerie mold infestation that's visible, and that's lurking in hidden places, and we will use our dry fogging technology to sterilize your entire living space, killing every last mold spore. In fact, cold sterilization dry fogging not only eliminates mold, it also kills COVID-19 and truly turns any dwelling into a "clean room". Call today for a free assessment and quote, and allow our partnership to work for you, your family, and employees to ensure a safe and healthy atmosphere that's mold free.